Overview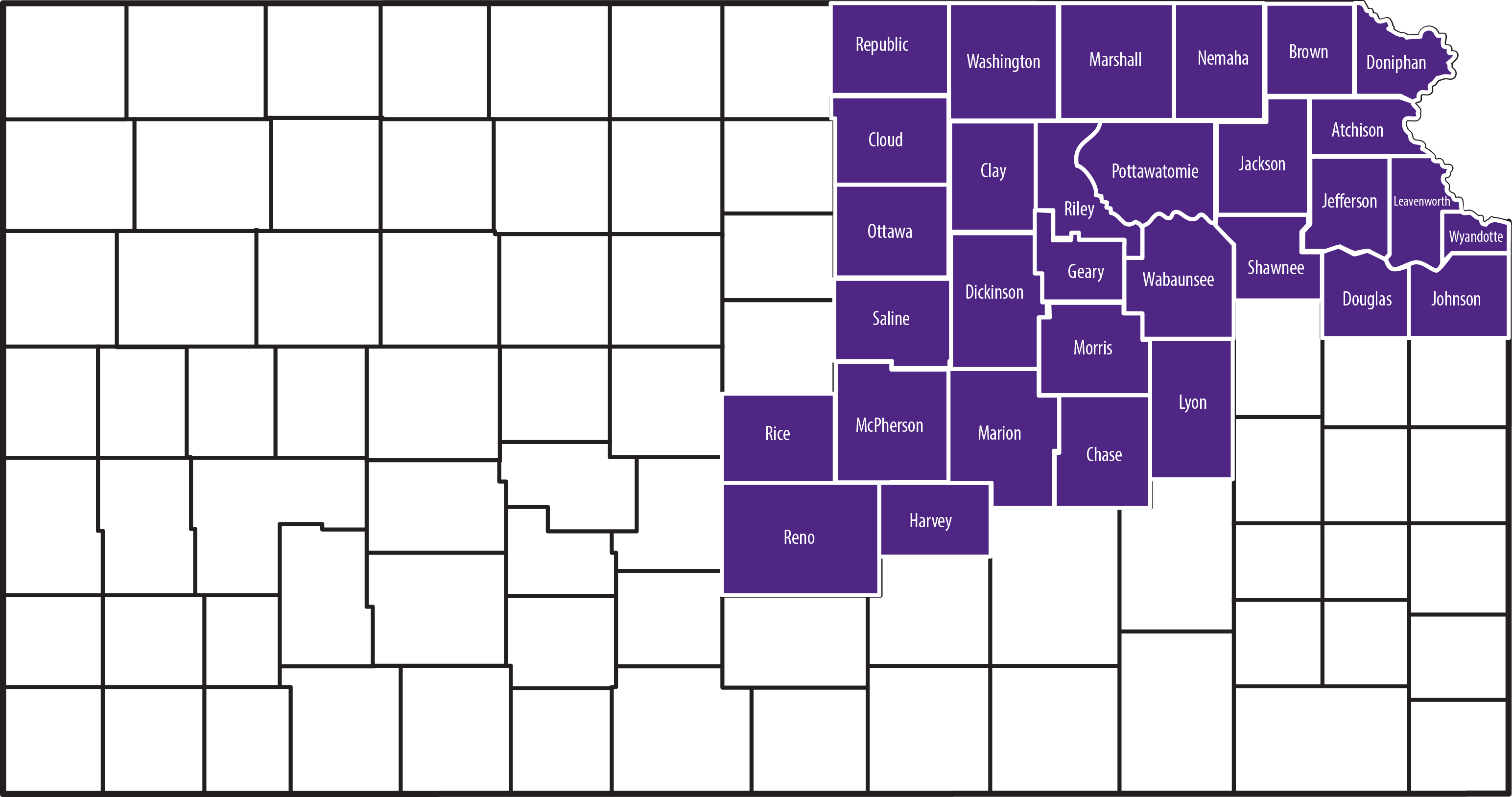 Our Mission
"We are dedicated to a safe, sustainable, competitive food and fiber system and to strong, healthy communities, families and youth through integrated research, analysis and extension."
Organization Context
Kansas State University (KSU) agricultural programs include off-campus research-extension units under the auspices of the Kansas State Research and Extension (KSRE). These units are located strategically throughout the state to enhance contact with the people of Kansas, extend local services to clientele beyond the main campus, and broaden the focus to encompass a greater degree of diversity in climate and soils.
Program and Service Area
The programs and services of the Northeast Regional Office are focused on 31 counties in the northeast corner of Kansas. These include: Atchison, Brown, Dickinson, Doniphan, Geary, Harvey, Leavenworth, Lyon, Marion, Marshall, McPherson, Pottawatomie, Rice, Wabaunsee. Two Extension Districts have also been formed: Flint Hills (Morris and Chase counties) and Meadowlark (Jackson, Jefferson, and Nemaha counties). Our Area Specialists provide programming to the additional counties of Douglas, Johnson, Reno, Riley, Shawnee, and Wyandotte, and two Extension Districts: Central Kansas (Ottawa and Saline counties) and River Valley (Clay, Cloud, Republic, Washington).
Grand Challenges
K-State Research and Extension is a partnership between Kansas State University and federal, state, and county governments. K-State Research and Extension is working to address five grand challenges facing Kansas including global food systems, water, health, developing tomorrow's leaders, and community vitality. Extension specialists at the Northeast Regional Office discover new knowledge and work with their local communities to solve current issues related to the grand challenges.