Family and Consumer Sciences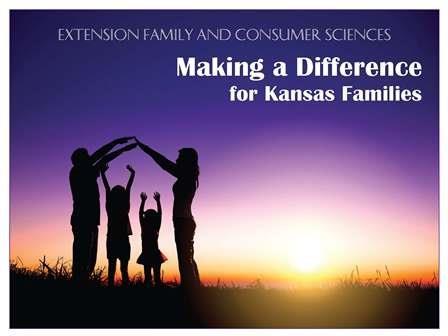 Skills learned help empower individuals, families and communities live, work, and thrive in a diverse society.
The benefit of the work by Family and Consumer Sciences agents to individuals, families, and communities is:
• Improved or enhanced quality of life
• Personal growth
• Improved or strengthened families
• Healthy Communities
• Being prepared for the future
• Successful and sustainable society
• Help individuals and families be the best they can be
• Help individuals and families reach or realize their potential
• Help people create the best life for themselves, their families, and their communities.
• Empowering individuals and families across the life span to live and work in a diverse society
What's New
Prepare Kansas
September 2015
Join this online financial preparedness challenge. Throughout the month of September, complete activities to prepare your home or workplace ahead of a disaster. For more information or to register, contact your local Extension Office.
Get Financially Prepared: Take Steps Ahead of Disaster

Walk Kansas 2017 / March 19 – May 13
Click on Logo below for Walk Strong - Strengthening and Yoga Videos